Christopher Columbus Necropolis
Museum
Discover how the Christopher Columbus Necropolis is in Vedado, Havana, Cuba  
Christopher Columbus Necropolis


The Christopher Columbus Necropolis, declared a National Monument, and considered one of the most important monumental architectural cemeteries in the world, is located in the city of Havana

This 56 Ha cemetery is famous for its impressive religious iconography and elaborate marble sculptures. A large number of monuments of different styles and manifestations belonging to both Cuban and foreign sculptors are housed here.

Far from being disturbing, taking a tour of this cemetery can be an educational and emotional pass through Cuban history.

As soon as you cross the north entrance, in the neo-Romanesque style (1870), if you turn right you will find the tomb of the independence hero Máximo Gómez, it is worth noting the bronze face of the circular medallion.

A little further on is the Firefighters Monument, which dates from 1890, and the central chapel, in the Neo-Romanesque style, dating from 1886.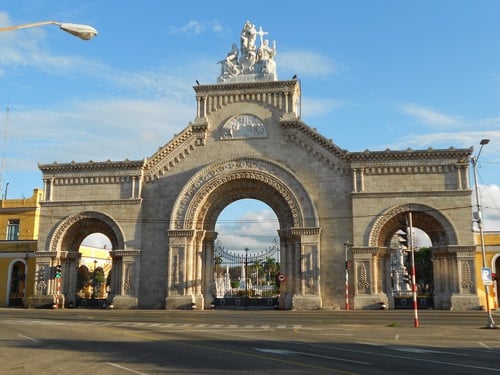 Christopher Columbus Necropolis



In the heart of the cemetery, on the street 1 corner with F, is the most famous and visited chapel of the cemetery, the Chapel of Amelia Goyre de la Hoz, popularly known as La Milagrosa. According to the legend, this woman died when she gave birth, and her bereaved husband visited the grave several times a day, before entering she always called with one of the rings in the pantheon, and when she left she walked back to see her as long as possible Years later they exhumed the remains, and Amelia's was intact, which is a sign of holiness according to the Catholic faith, and the baby, who was buried at the mother's feet, appeared in her arms. As a result, La Milagrosa became a place of spiritual worship, and thousands of pilgrims visit his grave every year in hopes of fulfilling their dreams. As tradition dictates, its visitors call the pantheon using the ring before entering, and when they leave they do so walking backwards.

Another famous tomb is that of Eduardo Chibás, leader of the Orthodox Party. This tomb is located on 8th Street, between F and F. Streets Chibás was a tireless fighter against political corruption who committed suicide as a protest during a radio program in 1951. During his burial, the then young Fidel Castro jumped over his grave and delivered a speech denouncing the established power.

Other of the outstanding tombs found here are those of the novelist Alejo Carpentier, the scientist Carlos Finlay, those of the martyrs of Granma, and those of the veterans of the wars of independence.

At the entrance, for 5 CUC, you can purchase a guide with a detailed map of the most interesting places in this necropolis.
Contact Christopher Columbus Necropolis
Make Enquiry.
Directions
Necropolis of Christopher Columbus, Havana - Cuba, La Habana
View Larger Map
Budget
Best For Whom
For Her

For Him

Backpackers

All Ages

Students
Best For What