Hotel Caribbean
Centrally located on Paseo del Prado, one of Havana's most important and beautiful avenues, just steps away is Parque Central
Hotel Caribbean

Centrally located on Paseo del Prado, one of Havana's most important and beautiful avenues, just steps away is Parque Central, the Great Theater of Havana, the Capitol Building and the World Art and Cuban Art Museums. You can walk down Obispo Street filled with shops, hotels and restaurants, while you soak up the local color alongside a sea of ​​Cubans. The street leads to Plaza de Armas and if you have the energy, walk a bit further to Plaza de San Francisco, and on to where it joins Luz St. at that point you can decide if you want to cross Havana Bay on a very quaint ferry.

As you leave the hotel, if you turn left, you will reach the Malecón. If you want to visit the Havana of the movies, make two right turns and you will get to Centro Habana where folklore and daily life mingle.

At Parque Central, you will see antique pre-1950 cars which you can photograph or take for a ride to other parts of the city, like Vedado or Playa. If you prefer, you can hop on a double-decker bus for a city tour.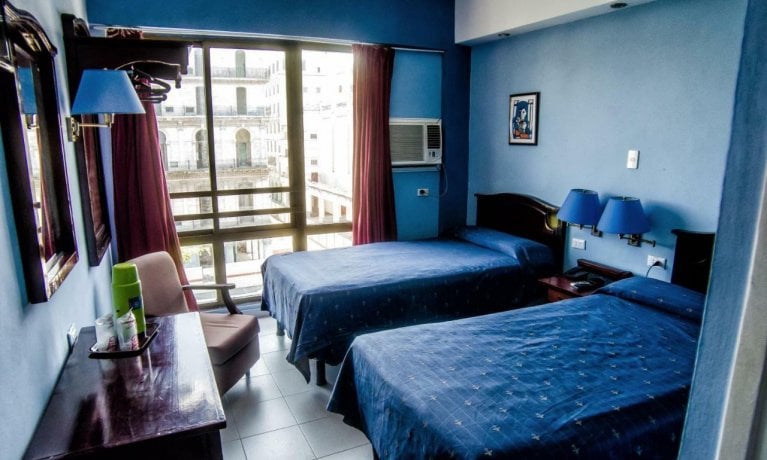 Hotel Caribbean



An uncomplicated hotel for uncomplicated travelers
The Caribbean is designed for travelers who like to start early and return late. It is a small uncomplicated hotel but it has an elevator and the rooms have hot and cold water, private bathrooms, air conditioning, TV with foreign-language channels and telephones. The restaurant menu offers breakfasts based on eggs, ham and fruit, and all day, long its snacks and light meals will keep you going. Their pizzas and pasta dishes are delicious and you will find Cubans ordering a Bucanero (the most popular beer for the locals) as they enjoy their plate of French fries.

Personalized service
Many of our guests are amazed at how our staff calls them by name. It is a Caribbean tradition to look after our visitors, to treat them as if they were family; this means you can always count on any one of them to answer your questions.

In its north-south trajectory, Paseo del Prado is the center of the busy Old Havana area, just one block from Calle Industria, marking the boundary with Centro Habana, and extending to the Fuente de la India and the Plaza de la Fraternidad, right down to the Malecón in the opposite direction.

The perfect location to get to everything of interest in Havana
Very close to the Casa del Árabe, which has some of the best salsa nights in the city
Low cost reservations, meals and services
Budget
Best For Whom
Mature Travellers

For Her

Couples

Business Travellers

For Him

Families With Teenagers

All Ages

Families With Children

Groups
Best For What