Hotel Cayo Levisa
That's right, this is Paradise!
Hotel Cayo Levisa

That's right, this is Paradise! The facilities are simple, great for those of us who don't need much to be happy. You can get away from the rest of the world, but not that much, because terra firma is just over 2 kilometers away.

Relatively few people stay overnight on the key. The philosophy does not encourage massive tourism. Do you need to think, to connect with your inner self? A walk along the 3-kilometer beach is just what the doctor ordered.

There are 23 diving sites for setting out on an adventure to see sponges, multicolored fish and mollusks in all kinds of shapes along one of the best-preserved coral reefs in the world.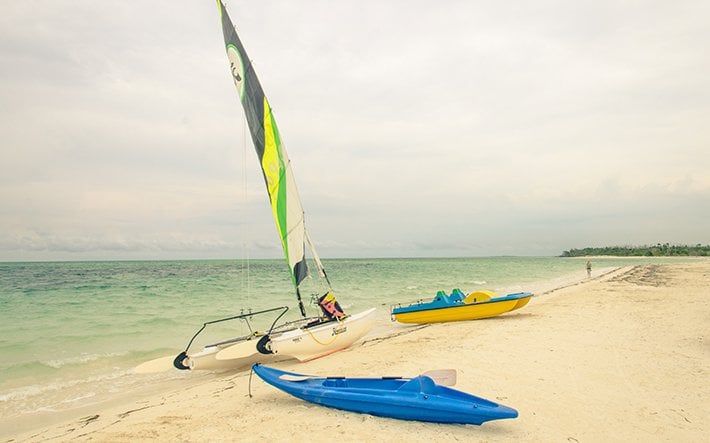 Hotel Cayo Levisa



If you are interested in diving, but you've never had the chance to learn, this is your opportunity. The experienced trainers at the Cubanacán Cayo Levisa can teach you. You can also go fishing, take catamaran rides, go snorkeling and water-skiing.

The rooms are distributed among bungalows, junior suites, and the tropical suites. They all have private bathrooms, telephones, air-conditioning, mini-bars, safes and satellite TV.

Cayo Mégano de Casigua, one of Ernest Hemingway's favorite spots in Cuba, is 10 kilometers from Cayo Levisa. The American writer called it Cayo Paraiso: Paradise Key.

There are other interesting spots nearby: the Cueva del Indio, the laidback town of Viñales and the Mural of Prehistory in the Viñales Valley. And along the ecological theme, you can go a bit further afield and visit the Sierra del Rosario, a UNESCO Biosphere Reserve.

The hotel is 150 kilometers west of Havana and about 90 kilometers away from the city of Pinar del Río. To reach the key, you need to take a ferry from Palma Rubia, located 30 minutes from the town of La Palma.

Budget
Best For Whom
Mature Travellers

For Her

Couples

Business Travellers

For Him

Families With Teenagers

All Ages

Families With Children

Groups
Best For What