Hotel Colony
The Hotel El Colony is located in the Siguanea Bay to the south of the Youth's Island in Cuba
Hotel Colony

The Hotel El Colony is located in the Siguanea Bay to the south of the Youth's Island in Cuba, called by many the earth of a thousand names, in allusion to the denominations received during the centuries.

Inaugurated in the 50's this resort rises in a paradisiacal beach to the south of the Cuban island, is just at 5 minutes from the airport of Siguanea, 35 minutes of flight from Havana and 42 km from Nueva Gerona.

This is one of the hotel facilities endowed with scuba diving centers, it is considered a paradise due to their transparent and blue waters belonging to the insular rich platform. Here the guests can have the easiness that offers the International Diving Center El Colony, considered by many like one of the best of Cuba.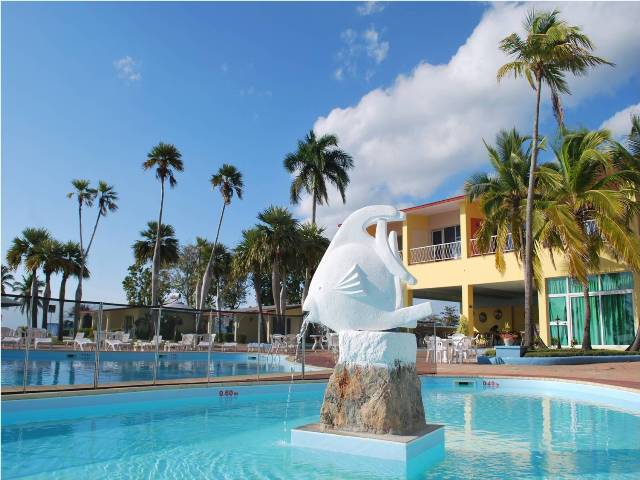 Hotel Colony



Also from the Hotel El Colony can be carried out non alone trips it stops to the lovers of the flora and the fauna that can visit places like the Punta Frances Marine National Park, Jones' Jungle, the hatchery of marine turtles or the Crocodiles Hatchery of the Lanier Marsh for alone to mention some but also for those interested ones in the history or the speleology that can visit the Punta del Este Caves, the Property the one Opens up or the Model Prison.

The Christopher Columbus admiral discoverer of the Isla de la Juventud Island, San Juan Evangelist called it. Island of the Parrots and of the Treasure they figure among their first names, in a time where from the XVI century and until the XVIII one the isle served from refuge to several crews of pirates and corsairs. For the aboriginal ones, it was simply Siguanea, while the denomination of Island of Pines was the most durable, with an origin that goes back to the forests of pines of the species finally Caribbean that covered the region, is named Isla de la Juventud officially in 1978.

This beautiful hotel can also count histories and corsairs' legends and pirates that really used the island to hide its treasures and in whose histories the writer was inspired Robert Louis Stevenson to write his novel, The Island of the Treasure, they count that treasures buried by the pirates still exist and that they have never been located.

Budget
Best For Whom
Mature Travellers

For Her

Couples

Business Travellers

For Him

Families With Teenagers

All Ages

Families With Children

Groups
Best For What