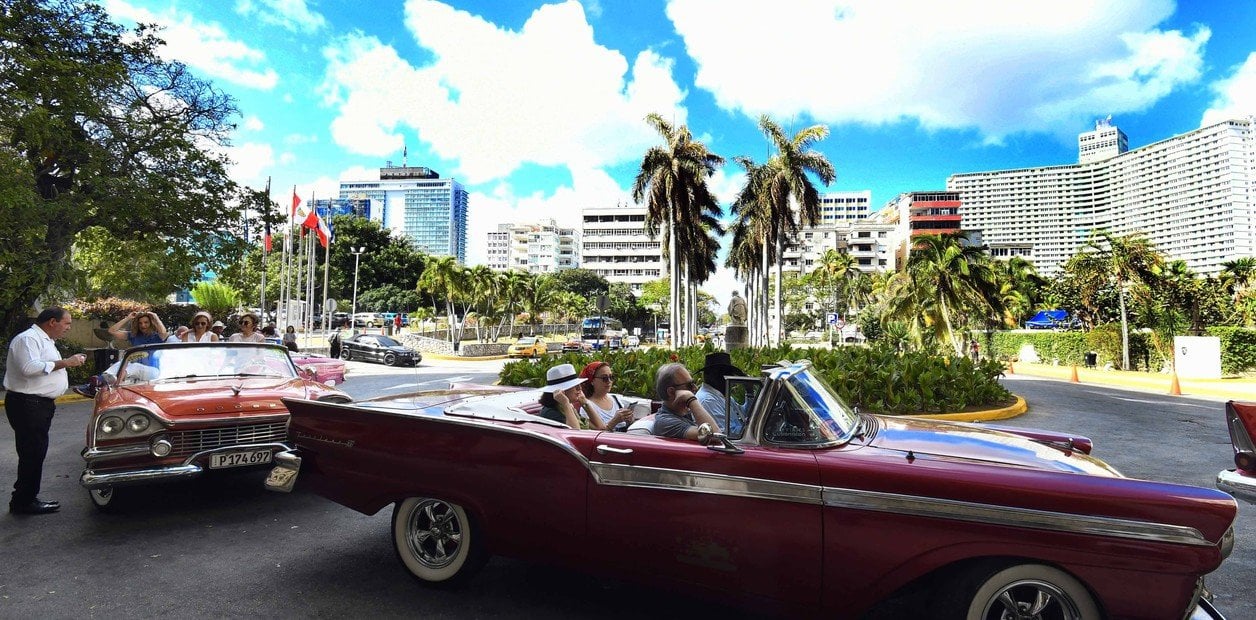 Cuba quarantines more than 40,000 tourists and restricts the movement of its citizens
Arts & Culture Editorial Family Fun Top 10
Havana turns around and decrees drastic measures to prevent the spread of Covid-19.
Drastic turning point in
Cuba
. In view of the fact that a large part of the population continued to live their lives with little change despite the measures taken so far to confront the coronavirus -measures that appealed above all to self-control and individual conscience, without obligatory quarantines or prohibitions to go out into the streets-, the government announced this Monday a package of radical actions aimed at halting the spread of Covid-19 on the island. All the tourists in the country, about 40,000, will have to stay in the hotel under close surveillance until they can leave; those staying in private hostels will have to stay inside and will not be allowed to circulate in the streets; the Cubans or residents who enter
Cuba
as of this Monday, will spend a period of quarantine of 15 days in an assistance center, without being able to go home.
This is how the curve of the coronavirus evolves in Latin America
The new measures also restrict travel by
Cubans
between provinces within the island and the departures of residents outside the country. In addition, classes at all levels of education are suspended - something that had not been done, and which was increasingly demanded on social networks - and it is announced that measures will be taken, including police measures, to avoid queues and concentrations of people in stores where food and basic necessities are sold, one of Cuba's great problems due to the chronic shortage, which forces people to live from day to day.
Prime Minister Manuel Marrero made this clear in a special television program. This is not the time for social activities, visits, greetings, parties, or collective dominoes in the street - a typical Cuban image. Nor is it a time to go to the beach and dance reggaeton, as was the case until Sunday on the coast of Havana. "Drastic measures will be taken against anyone who violates these provisions," said the high official, who said that in the coming days severe actions will continue to be taken to prevent the epidemic.
At the moment, there are 40 confirmed cases and one death, 1,000 people are isolated in hospitals due to suspicious symptoms and another 30,000 remain under surveillance in their homes. The prime minister said that in the last two weeks 47,000 Cubans or foreign residents have entered the country and are being closely monitored. At the same time, doctors and medical students are actively searching for suspicious cases in neighborhoods, towns and cities throughout the country. At a government meeting prior to Marrero's appearance on television,
Cuban
President Miguel Díaz-Canel assured that if the decreed measures were complied with, the epidemic curve would be controlled in time and kept at a low level.
The Cuban authorities were realistic in admitting that one of the keys would be to avoid the crowds and the queues at the markets, which due to the Cuban situation are extremely dangerous. Marrero indicated that decisions will be taken to guarantee food in a rationed - or regulated - way to avoid hoarding and to facilitate its distribution through the houses - something that will not be easy to do, since the great problem of
Cuba
is the lack of supply. But, it was reported, there is the official will to avoid at any cost the agglomerations, even with police measures. The action of the agents on the streets will be increased in the next few days, and sanctions will be adopted against those who do not listen to reason. "All of this that we are announcing is of strict compliance," emphasized Marrero, confirming that the stage of progressive measures and citizen self-control is already part of the past.
Markets and restaurants will remain open, but from now on they will have to respect strict hygiene and distance measures - at least two meters - or else they will be closed. It was also reiterated that any self-employed person (a person who, without being a trader or professional, lives from his own business), of which there are 600,000 on the
island
, who has to close or sees his income substantially reduced will be temporarily exempted from paying taxes and will not lose his license.
The situation of the
tourists
who have not yet been able to leave - about 10,000 are Europeans - is becoming desperate due to the cancellation of more and more flights. This Tuesday begins the ban on entry to the country of tourists - residents will be able to return - but although the airspace is not closed, the decision of several companies to cancel their operations may leave thousands of people stranded. This is the case of Air France and Air Europa, as well as other Latin American airlines. Iberia still maintains flights, but has reduced its frequencies. Some 1,500 Argentines are currently without a return flight, and the same could be true for travelers of other nationalities. Until last night,
according to immigration sources
, there were about 1,500 Spaniards, 4,000 Germans, 2,000 Italians, some 3,000 French and another 30,000 tourists of various nationalities who will not be able to go out on the streets from now on.
I
Written by:
Cuba Local Expert
PUBLISHED: Mar 31st 2020