Castle of the Royal Force
Historical and Cultural Sites
Discover how the imposing Castillo de la Real Fuerza is in Old Havana, Cuba
Castle of the Royal Force


The Castillo de la Real Fuerza is a great example of military architecture in times of Spanish rule in the Caribbean. It is located on the side that overlooks the sea of ​​the Plaza de Armas, in Old Havana. Today, the castle, together with the rest of the fortifications of the city and the historic center, has been declared a World Heritage Site by UNESCO.

The Castillo de la Real Fuerza is the oldest standing fortress in all of the Americas. It was built between 1558 and 1577, in the same place where there was a fort that was destroyed by French privateers during 1555.

It should be noted that the west tower is crowned by the copy of a famous bronze weather vane called La Giraldilla. The original was made in Havana during 1630 and is very similar to the Giralda in Seville. It is currently in the Museum of the City, located in this same square.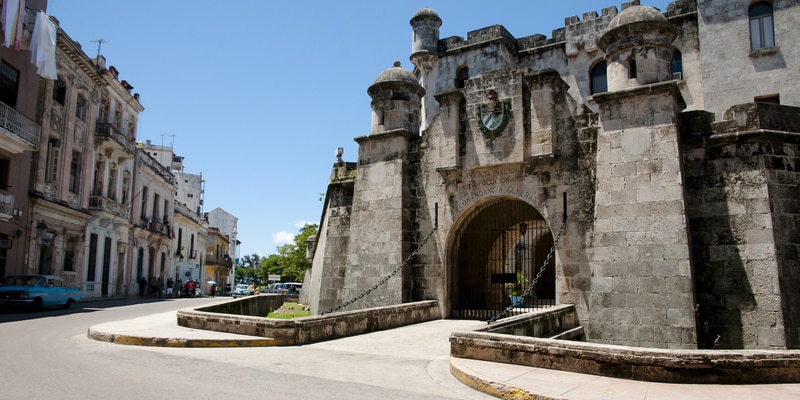 Castle of the Royal Force



The tower is known as Torre de la Espera because the legend says that Doña Inés de Bobadilla, wife of the Spanish conqueror Hernando de Soto, who remained as governor of Cuba while her husband tried to conquer Florida, went up to the tower every day to wait See the arrival of the galleon of her husband, who never returned, since she died in the attempt of this conquest.

The castle is surrounded by an impressive moat, where the Navigation Museum is currently located.

For about two centuries, the castle was the residence of the Governor General, but today it houses the Museum of the Fortress or Museum of the Royal Force, where a scale model of the fortress is shown at a scale of 1: 100 that illustrates the evolution of the castle based on a 1961 plan of the Plaza de Armas and its surroundings.

The museum also exhibits various objects related to the life and functions of the castle dating from the sixteenth to the eighteenth century.
Contact Castle of the Royal Force
Make Enquiry.
Directions
Calle O 'Really (Plaza de Armas) , Avenida del Puerto, Havana , La Habana
View Larger Map
Budget
Best For Whom
Mature Travellers

For Her

For Him

Backpackers

All Ages

Students

Groups
Best For What