Santa Isabel Hotel
Many celebrities have chosen the Santa Isabel for their days visiting Havana
Santa Isabel Hotel

Many celebrities have chosen the Santa Isabel for their days visiting Havana: former US President Jimmy Carter, Jack Nicholson, Sting, Bruce Willis, Danny Rivera and Pedro Almodóvar, just to name a few.

When it was built, this former mansion belonged to the family of the Count of Santovenia. It was turned into a hotel in 1867. After a painstaking restoration, which respected the original characteristics of the building, its doors were again opened in 1997. It has preserved its great crystal chandeliers, the magnificent staircase and the colonial-style furnishings.

The interior decoration includes work by famous Cuban visual artists such as Zaida del Río, Roberto Fabelo and Alberto Lescay. The cool and tranquil inner courtyard is very popular among its guests, and there is hardly anyone who is able to resist having their picture taken beside the fountain in the middle.

Modern services bring us into the 21st century. Even though it only has three floors, the hotel has elevators. Wi-Fi is available in common areas on a pay-as-you-use basis. El Condado Restaurant, in its Pink and Blue Rooms, offers international cuisine and specialized vegetarian fare. The Santa Isabel Bar is truly enchanting.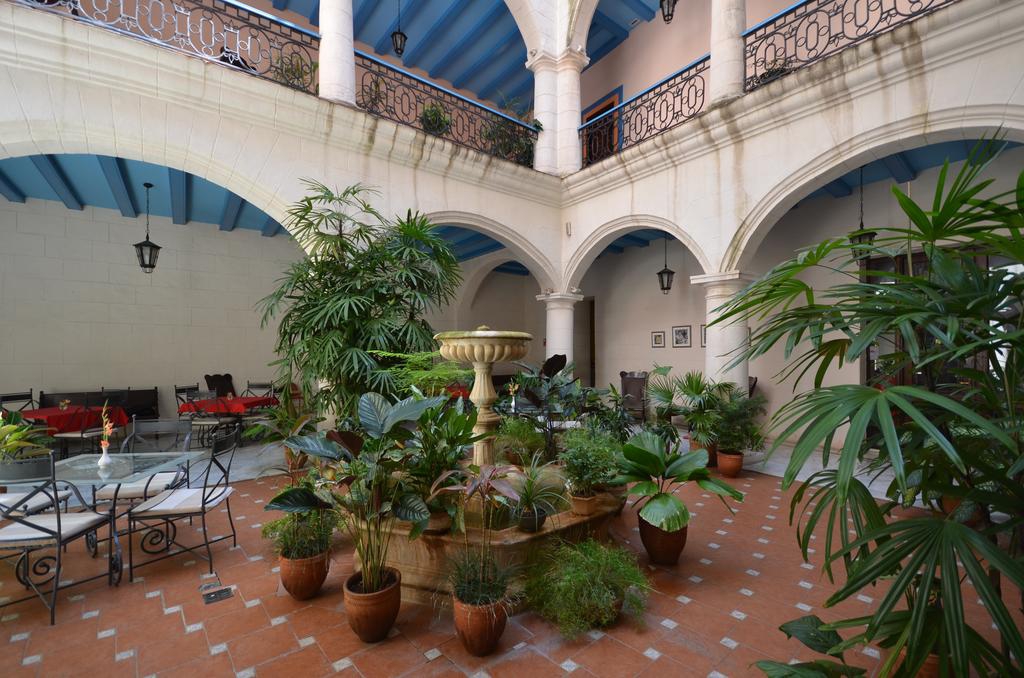 Santa Isabel Hotel



Many of our guests like to have their breakfast in the entrance patio or on the outside terrace, a great place for people-watching. There are some well-known restaurants, such as the Café del Oriente, and a number of privately-owned restaurants within easy reach.

A short kilometer away is the celebrated Floridita Bar, famous for its daiquiris and for its connection with American writer Ernest Hemingway.

The standard, junior suite and suite rooms are comfortably large, also decorated in a style evoking day gone by. Wrought iron bedsteads and another colonial-style furniture create a dream-like aura, a little like traveling back to the past.

Plaza Vieja and Plaza de San Francisco de Asís, the Cathedral of Havana, the famous Bodeguita del Medio Restaurant, and more are all within easy reach of the hotel. From the roof terrace, you can see the fortresses that protected Old Havana from pirate marauders: the Morro, the Cabaña, the Punta and the Real Fuerza. Outside the main entrance, the Plaza de Armas is always full of musicians, children and booksellers.
Budget
Best For Whom
Mature Travellers

For Her

Couples

Business Travellers

For Him

Families With Teenagers

All Ages

Families With Children
Best For What