Alley of Hamel
Hamel Alley is located between Aramburu and Hospital streets, in Centro Habana.
Alley of Hamel

Hamel Alley is located between Aramburu and Hospital streets, in Centro Habana. It is the first mural on the public highway dedicated to Afro-Cuban culture, which was born on April 21, 1990 in the Key West neighborhood.

History
Fernando Belleau Hamel That was the name of the Franco-German American who bought some land in the Key West neighborhood at the beginning of the last century. There he organized a business of raw material and foundry, put blacks and Chinese to work, and even built them houses, a generous act that did not go unnoticed, because years later a small alley took its name. The neocolonial government in 1913 made an effort to buy the land but it was not successful.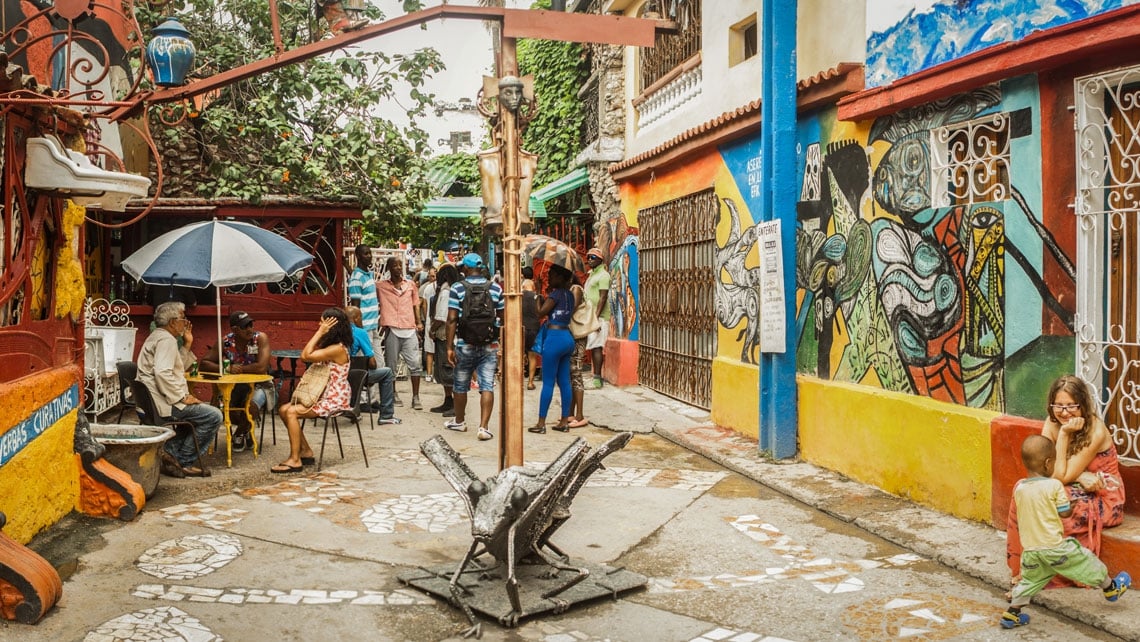 Alley of Hamel



In the Alley tribute is paid to the Afro-Cuban culture, some works are made of remains of old bicycles or abandoned bathtubs, now shining after taking color. In addition, there is a Nganga, a sacred place for the celebration of the rites of the religion of Palo Monte.The attraction of this alley lies in the colorful murals that adorn all its walls and that represent as none the religious and cultural syncretism of the island. The drawings reproduce different gods and orishas, ​​spiritual and animal symbols, with poems or legends written on them, about life, love, dignity, etc. The initiator of this project was Salvador González Escalona, ​​painter, sculptor and muralist. Its objective is to provide creative art to the people, revitalizing a street forgotten by time and the city, with an Art Gallery, where the neighborhood itself would be an indissoluble part of a unique creation of its kind, in the country and in the world, which was always available to children, the elderly, workers and professionals. In that place, the visitor can also find products that are associated with Afro-Cuban jobs and rites. This alley is also a space in which art and community interact; where festivals are held in which children and neighbors from the area participate.

What began as a simple street demonstration of Afro-Cuban art and culture has become a reference and a kind of sanctuary for all those who feel that their roots are still alive and are not willing to deny them. all hours, either from radio devices or from street musicians. From there, many matinees are organized, which are like small concerts where you sing, dance and drink generally at noon or late in the afternoon. From the first day of its foundation, shows and performances were performed with important groups and prominent figures such as: Merceditas Valdés, Celeste Mendoza, Yoruba Andabó, Clave and Guaguancó and many more. It is not until 1993, that systematic activities of all kinds for all ages begin to be carried out with the aim of enriching the cultural heritage of the people and making it known to everyone who visits them.

Budget
Best For Whom
Mature Travellers

For Her

Couples

Business Travellers

For Him

Families With Teenagers

Backpackers

All Ages

Students

Groups
Best For What