Old Havana
Museums Tours Cinemas Museums and Galleries Adventure Attractions Outdoor Activities Shopping Parks and Gardens
Discover how it is and what to see in Old Havana, the rich historical center of the capital of Cuba
Old Havana

Old Havana, declared a World Heritage Site by UNESCO in 1982, is the historic center of the city of Havana, formed from the port and the official center, the Plaza de Armas. In it you will find all kinds of ancient monuments, fortresses, churches, palaces, etc. since it is full of authentic architectural jewels from different eras and offers one of the most complete collections of urban buildings in the Americas. This area of ​​the city alone houses more than a thousand buildings of historical importance with various examples of a distinguished architecture that goes from the Baroque to the Art Deco.

Unlike the typical colonial cities, Havana developed over not one, but four main squares: the Plaza de Armas, which was the military and defensive center with a fortress and a large courtyard used for military parades; the Cathedral Square, which with its cathedral was used as the religious center; the Old Square, which was the commercial axis to house an important market; and the Plaza de San Francisco de Asís, which was the main point of export and import by having a port where Spanish ships docked.

It is advisable to explore Old Havana by walking through its four main colonial plazas, which are connected to each other by narrow streets and charming cobblestones. In recent years, the Office of the Historian of Old Havana has invested a lot of time and effort in returning the splendid colonial aspect of its four seats.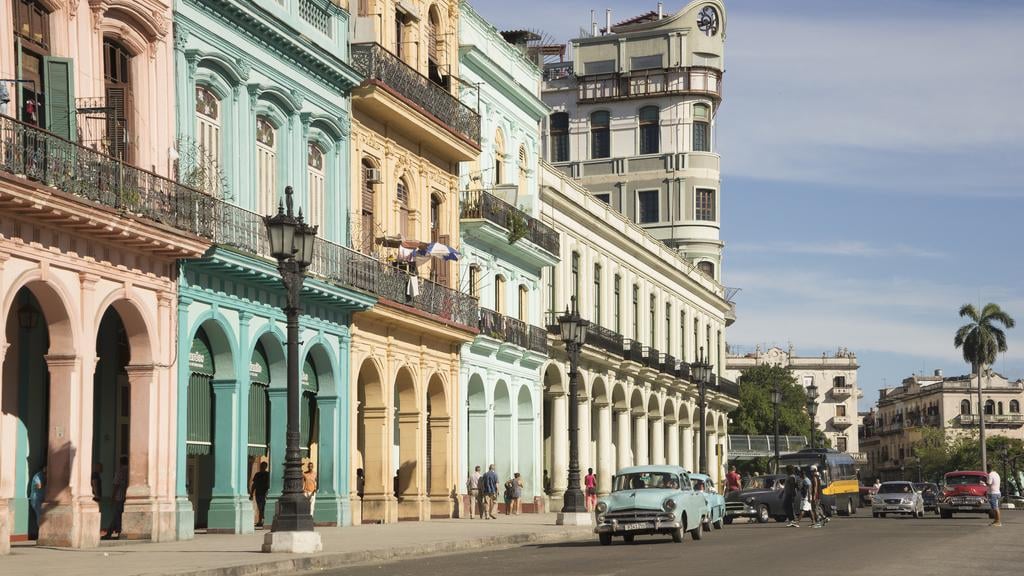 La Habana Vieja, Old Havana



Old Havana also houses a large number of museums. The Model Museum of Old Havana is located in Calle Mercaderes and is a must to get a global view of this wonderful area of ​​the city. Other must-see museums in Old Havana are: the City Museum, the Navigation Museum, the Royal Force Museum, the Rum Museum, the Colonial Art Museum and the José Martí Birthplace Museum.

It is also worth noting especially interesting places such as the Cathedral of Havana, the Palace of the Marquis of Arcos, the Palace of the Count of Lombillo, the Palace of the Counts of Casa Bayona, La Bodeguita del Medio and the Palace of the Marquis of Aguas Claras, in the Cathedral Square; the Castle of the Royal Force, and the Palace of the Second Cape, located in the Plaza de Armas; the Church and Convent of San Francisco de Asís, which houses the Religoso Museum of Art and a concert hall, in the Plaza de San Francisco de Asís; the Planetarium, located in the Old Square; Mercaderes Street, full of free admission museums; El Floridita Restaurant-Bar, on Obispo Street; or the Bacardí Building, located at the western end of Old Havana.

Old Havana enjoys a magnificent nightlife. Its essence can be absorbed in the bars of Obispo Street and Plaza Vieja.


Budget
Best For Whom
Expats

Gay & Lesbian

Mature Travellers

Beginners

For Her

Couples

Business Travellers

For Him

Low Handicaps

Students

First-Timers

Families With Children

Groups
Best For What
Relaxation

Beer

Live Music

City

A Bit of Romance

Lively Atmosphere

The Local Experience

Fine Dining

Adventure