Cathedral Square in Old Havana
City Points
Discover how the Cathedral Square is as you pass through Old Havana, Cuba
Cathedral Square in Old Havana


The Plaza de La Catedral is the most uniform of the four main colonial squares of Old Havana. This square is an authentic Cuban baroque museum, since all the buildings located in it, including the Cathedral, are from the 18th century. In this square the streets of Empedrado and San Ignacio converge.

Some of the most outstanding buildings in this square, in addition to the Cathedral of San Cristóbal de La Habana, are: the Palace of the Marquises of Aguas Claras, the Palace of the Count of Lombillo, the Palace of the Marquis de Arcos, the Palace of the Counts of Casa Bayona, where the Museum of Colonial Art is currently housed; and the Wifredo Lam Center, a small museum and gallery dedicated to Wifredo Lam, one of the most recognized modern Cuban artists.

In the alley of Chorro, which starts from the same square, is the Experimental Graphic Art Workshop, where Cuban artists make etchings, lithographs and serigraphs. His works usually enjoy excellent quality and are an excellent example of Cuban plastic art. The works can be acquired at quite reasonable prices.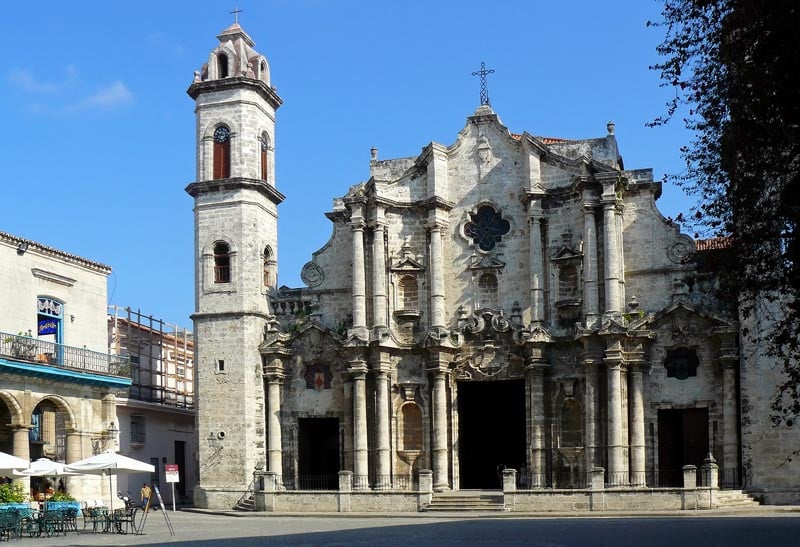 Cathedral Square in Old Havana



It should be noted that this is the newest of the four main squares of the city and that its current layout dates back to the 1700s. At the end of the 16th century this place was a muddy space, which is why it is now also known as La Ciénaga. Until it reached the Royal Ditch, an open canal that filled the city with water, but with the construction works around the area was dried and, later, the square was built.

Very close to the square is the famous Bodeguita del Medio, the most famous tavern-restaurant in all of Cuba. In fact, Ernest Hemingway himself, who visited her frequently, mentioned her in one of his phrases 'My daiquiri in Floridita and my mojito in La Bodeguita'. It should be noted that its restaurant is one of the best in terms of Creole cuisine. There is a tradition that the personalities that pass through it leave a mark, a memory, whether in photo form, an object, or a graffiti, being able to find historical signatures such as Salvador Allende, Pablo Neruda, or Ernest Hemingway, between much others.
Budget
Best For Whom
Mature Travellers

For Her

Couples

Backpackers

All Ages

Students

Families With Children

Groups
Best For What